Traveling to New Orleans for Plastic Surgery?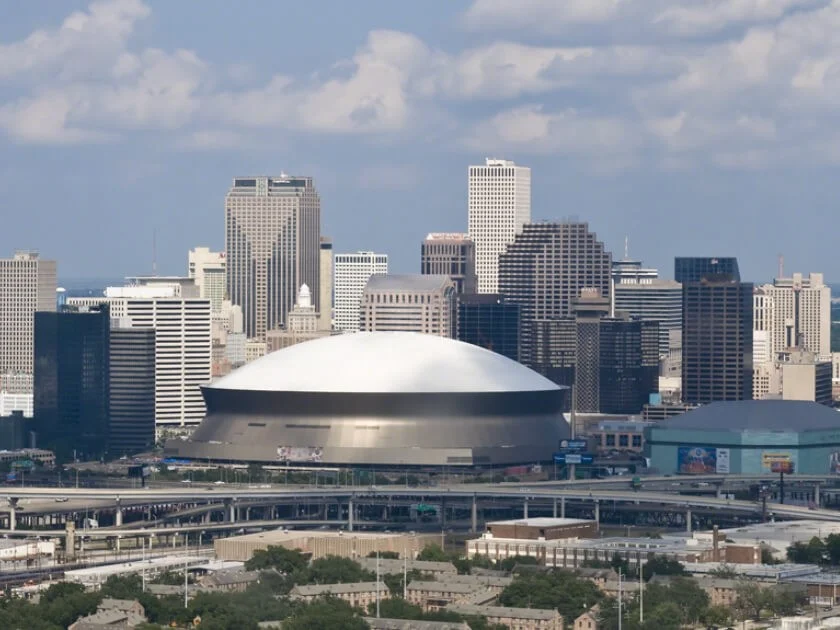 Visiting New Orleans?
Let us help you plan your stay.
Nicknamed the "Big Easy", New Orleans is about as unique of a city as they come. Located on the Mississippi River, this electric and charming city is known for its festive spirit, rich history, and round-the-clock nightlife. Whether you want to embark on a historical midnight ghost tour, visit one of the gorgeous cathedrals in the city, or spend a day people watching and bar hopping in the infamous French Quarter, NOLA has it all. Our melting pot of culture offers exquisite dining, one-of-a-kind lodging, and endless attractions. Famous for live-music scenes blended with American, French, and African culture, the experience you will gain here will be memorable and lasting. If you happen to visit our city for plastic surgery during Mardi Gras then you will get an added bonus of pure entertainment. Our staff has made a few recommendations to help you plan your itinerary, and invite you to call our Metairie office for more information.
The Ritz-Carlton Hotel – New Orleans, LA
Goose down pillows and 400-thread-count sheets, along with plush terry bathrobes and Italian marble baths, are just a few of the amenities one will find at the Ritz-Carlton New Orleans. Indulge and immerse yourself in luxury at this lavishly decorated hotel located on the edge of the French Quarter. Set within the historic 1908 Beaux Arts Maison Blanche building, The Ritz-Carlton still has the style and charm of a classic an antebellum mansion. Each room has a fully stocked mini-bar, high-speed Internet access, 24-hour room service, and a plush, luxurious bed to fall into after a long day of sightseeing. Guests love the farm-to-table dining experience at M Bistro, and a gorgeous courtyard to stroll with cocktails in hand. This hotel is simply unbeatable. Visit The Ritz-Carlton, New Orleans to learn more.
Visit Hotel
Hotel Monteleone – New Orleans, LA (French Quarter)
Hotel Monteleone is a French Quarter favorite, famous for its Carousel Bar & Lounge. This historical, majestic hotel sits right at the foot of Royal Street and offers guests one of the best experiences in the Quarter. Right outside the hotel is endless entertainment, shops that include antiques, rugs and jewelry, and a short walk to just about everything. Cozy guestrooms, antique furnishings, and an old world feel make this hotel feel like a one-of-a-kind adventure for guests. The bar located inside the hotel is notably one of the most famous hot spots in the entire city. It is a revolving bar that for decades has attracted guests to take a spin on the 25-seat, Merry-Go-Round while sipping hand-crafted cocktails. This hotel is the place to stay! To learn more, visit the Hotel Monteleone.
Visit Hotel
New Orleans Marriott Metairie Hotel at Lakeway
New Orleans Marriott Metairie at Lakeway is a classic Marriott hotel with all of the amenities this hotel chain is famous for. The Marriott at Lakeway combines classic style, comfort, and modern technology along with outstanding views of Lake Pontchartrain and the Central Business District. Every guest room has plush bedding and WiFi connection. A complete health club that includes a premiere fitness center and indoor pool are also located on the property. During your stay here, enjoy fresh morning coffee from Starbucks at the Market, evening appetizers and bar. All of the area's famous attractions are just a few miles from the hotel including the French Quarter and Bourbon Street. For more information, visit the New Orleans Marriott Metairie Lakeway Hotel.
Visit Hotel
Restaurants for Patient Traveling to New Orleans, LA for Cosmetic Surgery
GW Fins – Seafood Restaurant – New Orleans (French Quarter)
GW Fins is a popular restaurant in the New Orleans area that allows guests to take a true culinary adventure around the globe. Earning Esquire magazine's designation as "One of America's Top 20 Best New Restaurants Award," in the first few months after it opened, GW Fins offers dining of the finest quality seafood at every turn. Specials such as fresh King Crab from Alaska, roasted Red Snapper, Swordfish and Scalibut are just a few of the delicious daily menu items. GW Fins is located in the heart of the French Quarter and continues to be a favorite place to visit by those who live in the city, as well as for visiting tourists.
Cafe B Restaurant – Metairie, LA
Café B sits on a street that functions as the heartbeat of the city. In an area where St. Charles Avenue connects uptown with downtown, Café B can be found nestled among sprawling mansions, ritzy residences, and iconic attractions. Ralph Brennan's popular New Orleans restaurant brings American comfort food, served in an eclectic fusion style, to mesmerized guests hungry for a fantastic meal. Oysters, shrimp, Veal Scaloppine, and grilled Black Angus Filet Mignon are just a few of the succulent items on the daily evening menu. Café B also serves a 3-course Sunday brunch for just $29. Call ahead to make your reservations and experience outstanding cuisine in an iconic atmosphere.
Drago's Seafood Restaurant – Metairie and New Orleans, LA
Drago's restaurant in the heart of New Orleans serves fresh seafood, crab, Po-Boy sandwiches and spicy cuisine that Louisiana is famous for. Opened in 1969 by Drago and Klara Cvitanovich, a Croatian couple, and operated by countless family members, Drago's secret ingredient is love. They opened their Metairie location and both tourists and locals have flocked here since day one. Their second location opened at the Hilton New Orleans Riverside, and just like the original, it serves fresh seafood, charbroiled oysters, spicy gumbo and local favorites. Today, the restaurant is run by the Drago's capable son, Tommy, who still buys oysters from some of the very same Croatian fisherman as in the earlier days. Make your reservations before you head out!
Attractions for Patient Traveling to New Orleans, LA for Cosmetic Surgery
St. Louis Cathedral – New Orleans, LA
St. Louis Cathedral is one of the most magnificent sites in the city of New Orleans and is notably one of the most famous landmarks. Overlooking Jackson Square in the French Quarter, this building, with its outstanding architecture, triple steeples, and a height that towers over its historic neighbors, is considered the heart of old New Orleans. The Cathedral still holds regular mass, has visitors touring it on a daily basis, and is a true wonderment for those passing by. Buried under the church are centuries of members of royal, political, and infamous leaders. While in New Orleans, a trip to Cathedral-Basilica of Saint Louis, King of France, is a must!
French Quarter – Original Cafe Du Monde (New Orleans)
Famous for its French powdered donuts, rich warm coffee, fresh milks and orange juice, The Original Cafe Du Monde Coffee Stand was established in 1862 in the central area of the French Quarter. Open 24 hours a day, 7 days a week, anyone that visits the French Quarter makes a stop here to delight themselves in the lavishly covered Beignets. Since its opening in 1862, other locations have popped up around the city, but the French Quarter location still remains the most popular. Guest can sit on the open patio, take in all the sites of the French Quarter, while sipping coffee served black or Au Lait and indulging in their Beignet.
World War II Museum – New Orleans, LA
Formerly known as the D-Day Museum, the National WWII Museum, located in the Central Business District of New Orleans, is a major landmark in our great city. The museum focuses on the contributions made by the United States to Allied Victory in World War II. Maintaining affiliation with the Smithsonian Institute, the museum opened its doors in June of 2000 and includes life-size bomber planes and other war aircraft, as well as tanks, bombs, boats, machinery, and countless heart-felt memorabilia. The museum is open to visitors daily with new exhibits showing on a regular basis.