Dr. Kamran Khoobehi
Board-Certified New Orleans Plastic Surgeon
---
Offering the best combination of experience and skillful practice, Dr. Kamran Khoobehi is a leader, innovator, and instructor in the field of plastic surgery and is one of the country's premiere plastic and reconstructive surgeons. His consistent outcomes result from his extensive training, ongoing research, and distinct skill. 
He is dedicated to mastering the art of cosmetic surgery and is admired by patients and peers for performing treatments with a sophisticated, personal touch. Dr. Khoobehi performs cosmetic and reconstructive facial, breast, and body surgery and is known throughout the New Orleans and Metairie communities for creating gorgeous outcomes that are both natural and long-lasting.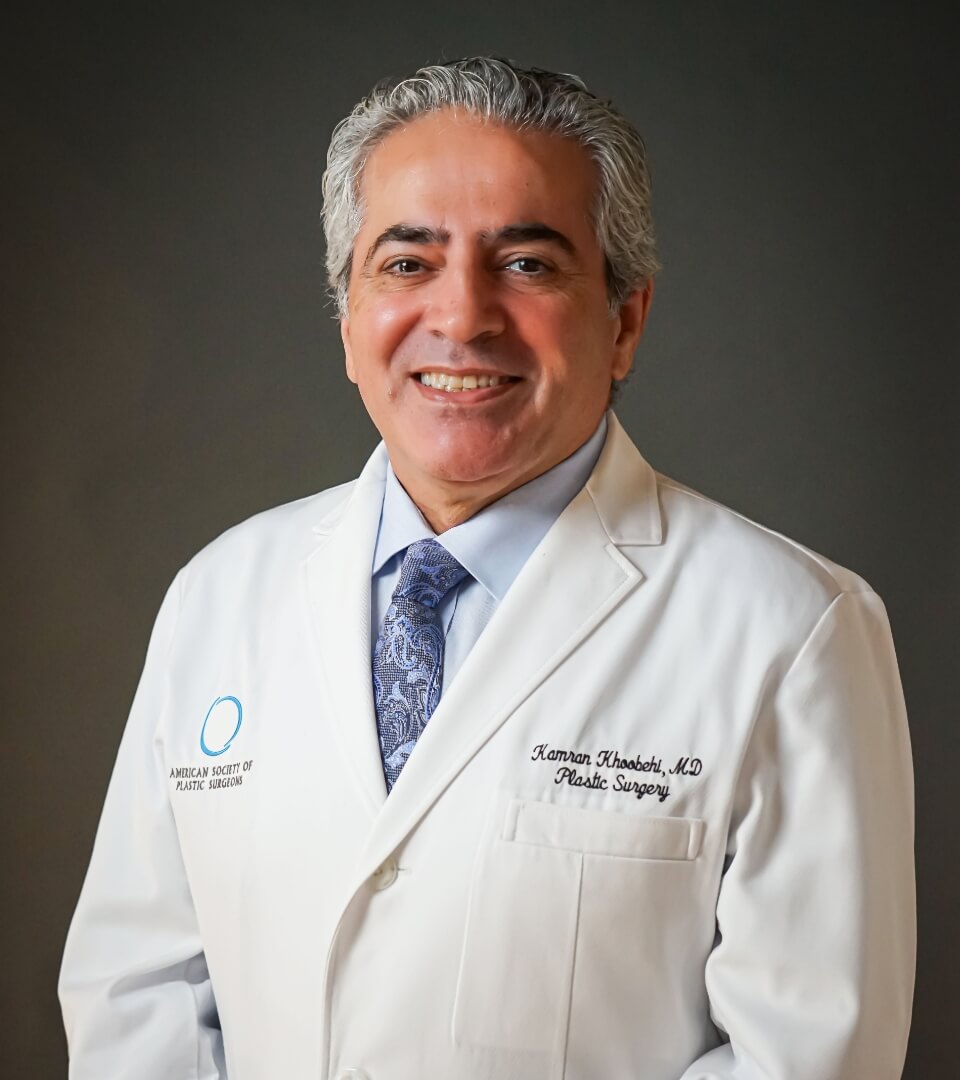 ---
Dedication to Teaching
Dr. Khoobehi is dedicated to teaching the plastic surgeons of tomorrow. He offers a one-year cosmetic fellowship in his private practice to train residents on the most advanced and up-to-date techniques.
In addition to this, Dr. Khoobehi is on staff at Louisiana State University, serving as a clinical professor of plastic and reconstructive surgery at the LSU Health Sciences Center in New Orleans. He serves as the Director of Training for aesthetic students at LSU and enjoys teaching future plastic surgeons.
Customizing Treatment Plans
Dr. Khoobehi's deep understanding of the human form allows him to develop personalized, comprehensive treatment protocols that help his patients achieve natural-looking transformations.
Often, a series of cosmetic enhancements are necessary to balance and harmonize the form. Dr. Khoobehi's extensive collection of surgical techniques, many of which he pioneered, and state-of-the-art non-surgical devices and treatments help patients achieve next-level results.
Dr. Khoobehi will spend a significant time with each patient during their consultation to determine exactly which surgical or non-surgical techniques will benefit them best. For some patients, this is simply non-surgical enhancements; for others, it may be a combination of surgery and minimally invasive technologies.
---
He understands that plastic surgery can help his patients physically and emotionally and, in turn, improve their quality of life.
Offering Plastic Surgery Transformations That Are More Than Skin Deep
Dr. Khoobehi strives to help individuals achieve improved self-confidence while eliminating their physical concerns interfering with their daily lives.
Named Newsweek's Top 50
Plastic Surgeons in the US
Multiple Award-Winning Plastic Surgeon
Not only is Dr. Khoobehi a top rated plastic surgeon, but he has consistently been awarded honors and recognitions from his peers and the plastic surgery community during his illustrious career. Dr. Khoobehi has been named one of Newsweek's Top 50 Plastic Surgeons in the United States in 2022, a distinctive recognition only given by a selective group of peers.
In addition to being featured as a Newsweek's Top 50 Plastic Surgeons in the United States, he was honored as Castle Connolly "Top Doc," a remarkable recognition only given to a select group of surgeons.
Instrumental to Furthering Plastic Surgery
Dr. Khoobehi is not just a board-certified plastic surgeon with decades of experience. He is an innovator and true pioneer of the field, having developed some of the top aesthetic treatment protocols that plastic surgeons use worldwide.
Dr. Khoobehi has been at the forefront of developing and getting fat transfer to the breast approved, being selected by the American Society of Plastic Surgeons to join their Fat Graft Task Force. As one of the first plastic surgeons to use and master this technique, Dr. Khoobehi has an understanding and skill far exceeding many other surgeons. This extensive knowledge led him to design the patented FAT/Fluid Separation Machine.
The majority of his Metairie practice is devoted to patients desiring breast augmentation, fat transfer to the breast, breast lift surgery, liposuction, tummy tucks, facelifts under local anesthesia, and cutting-edge skin tightening treatments. He also performs many secondary breast surgeries for women who have had suboptimal outcomes from breast augmentation performed elsewhere.
Dr. Khoobehi has changed the lives of countless men and women's lives, creating younger appearances with new standards in facial rejuvenation, including endoscopic forehead lifts, laser skin resurfacing, and the highest quality injectable fillers.
Originally from Iran, Dr. Khoobehi left home at 18 and traveled across Eastern and Western Europe before finding his way to the United States. This difficult journey demonstrates his determination and drive and paved the way for his notable surgical career here.
While he initially intended to go into cardiac surgery, Dr. Khoobehi soon realized that his natural artistic eye combined with his surgical skill was ideal for plastic surgery, and he never turned back.
Since then, Dr. Khoobehi has helped thousands of patients (both his own and the patients of the surgeons he trained) achieve beautiful cosmetic enhancements.
Education
Dr. Khoobehi pursued an extensive educational journey in the field of surgery, specializing in plastic and reconstructive surgery. Dr. Khoobehi completed his Medical Degree at St. Louis University. He further honed his skills through a rigorous 5-year residency program in general surgery at LSU Charity Hospital and Medical Center of Louisiana. This residency provided him with invaluable practical experience and a comprehensive understanding of surgical procedures. Recognizing the importance of specialized training, Dr. Khoobehi went on to pursue a 2-year fellowship in plastic and reconstructive surgery at LSU. During this fellowship, he received specialized instruction and hands-on training in advanced techniques for various reconstructive and cosmetic procedures. This additional training allowed Dr. Khoobehi to define his expertise and develop a deep understanding of the intricate art and science of plastic surgery.
In addition to his formal training, Dr. Khoobehi practiced under Dr. Robert Allen who created the Deep Inferior Epigastric Perforator (DIEP) Flap, commonly used during breast reconstruction.
Memberships
Dr. Khoobehi is an active member of the American Society of Aesthetic Plastic Surgery and enjoys participating in many of their continuing education programs. He is also a member of the American College of Surgeons and the American Board of Plastic Surgery.
Publications
Dr. Khoobehi has published numerous articles regarding his many contributions to the plastic surgery community, which have educated plastic surgeons worldwide. In addition to his own published work in medical journals, Dr. Khoobehi is on the review board of several scientific journals, including the International Society of Aesthetic Plastic Surgery (ISAPS) and The Aesthetic Society.
Hospital Privileges
Dr. Khoobehi is proud to have hospital privileges at many of the area's top hospitals, including:
Houma Surgery Center
East Jefferson Hospital
Ochsner Baptist Hospital
Tulane Lakeside Hospital
Interested in Scheduling Your Consultation With Dr. Khoobehi in New Orleans, LA?
---
If you are interested in learning more about how you can benefit from plastic surgery with Dr. Kamran Khoobehi, contact us by calling (504) 779-5538 or filling out our online contact form.